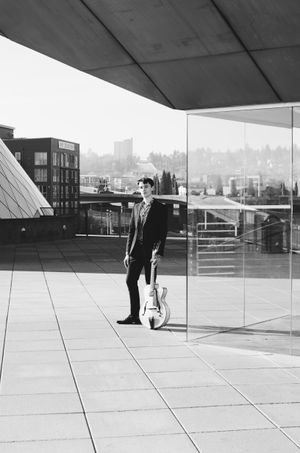 Bio
Originally from Denver, Ian moved to Tacoma, WA in 2015, to attend the University of Puget Sound. Since then, he has regularly performed with jazz-fusion outfit 322, sax legend Tracy Knoop, and many of his own groups, including the Pocket Change quartet, the Ian Crocker trio, student ensemble Wombo Combo, and others. While attending the University of Puget Sound, Ian was a regular soloist with the university big band, as well as the student organizer for the small group program. Since graduating from the University with a degree in Religious Studies, Ian has taken up work as a private music teacher. 
His influences run the gamut from contemporary composer John Adams to bluegrass trio Nickel Creek, from Indian sarod legend Ustad Ali Akhbar Khan to Canadian guitarist Ed Bickert. Though his career has so far focused specifically on jazz, Ian devotes considerable time to classical repertoire, folk styles, contemporary pop music, and much, much more. His passion for arranging and bandleading allows him to explore these eclectic interests within the context of more traditional jazz settings--making for exciting shows far outside of traditional jazz boundaries. 
Outside of his life in music, Ian is an avid reader, a somewhat-less-avid runner, and a backpacker.